The Band of Brothers in one of their more sober moments...
A plebe gets promoted to "Master Bates"

Plenty of Grog, plenty of smiles...

Captain Gould takes shore leave.

Admirality and Seamen stand united.

"You want us to take of your wives?!?!"

"I was out of town that weekend..."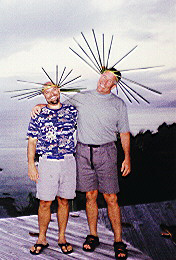 The Lord Admiral poses with native riff-raff that he saved from eventual drowning. The somewhat delusional native was found tits up in the surf after being washed ashore the morning after Typhoon Tillie hit the Fiji islands. It is reported that the Lord Admiral stated through his rum laded breath, "Me thinks this Fiji punjabi head dress is wonderful, but I need another bit-o-rum. Master Bates! Break out the rum barrel which is uncut! Hurry, me brain is coming to life!"